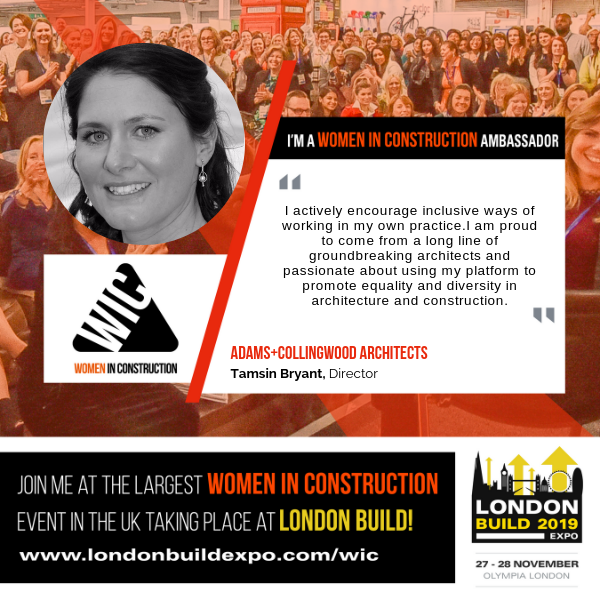 Our architectural director Tamsin Bryant is pleased to be a Women in Construction Ambassador at this year's London Build Expo. The event takes place on 27th and 28th November at Olympia London.
The UK's largest ever meeting of women in construction took place at the 2018 London Build Expo. Tamsin is excited to take part in this year's event with the ambition of driving change in the built environment and she is in great company; You can see all of the WIC ambassadors and find out more about London Build Expo here.
Tamsin Bryant, Women in Construction Ambassador:
Tamsin Bryant is an architectural director of London based practice Adams+Collingwood Architects.
Tamsin graduated from Oxford Brookes University with a distinction in Architecture and qualified as an architect from Westminster University. She worked as project architect at TateHindle Architects for five years before joining Adams+Collingwood Architects in 2014. Tamsin is the daughter of founding director Rob Adams. She has brought a pragmatic new vigour to her family's practice and valuable experience in designing and delivering quality sustainable architecture.
Adams+Collingwood Architects specialise in residential, commercial and education architecture, with a reputation developed over the past 25 years for creating quality architecture that stands the test of time. Tamsin has led highly commended projects such as Salcombe Gin Distillery's new waterfront headquarters, a sensitive, highly sustainable refurbishment and extension to a Wandsworth school, and a new multi-generational home in the Hampshire countryside.
If you would like to speak to Tamsin or a member of the Adams+Collingwood team about your project or the London Build Women in Construction initiative, please get in touch.